I'm a huge Foodie, so when I saw Michael Symon sporting a "offal" shirt in the commercial for his new Food Network show I just had to have one. Below are links to a couple shirts and a mug that sport the unique conversation starter that would make a great gift for the Foodie or Chef in your life.
I especially love the "O" in this font, considering offal's reputation of being "Lips and Assholes". That reminds me, I think we're out of hot dogs.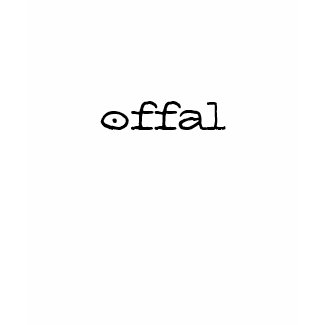 offal. One word says "it all"
by
PatentPlaceUSA
View more
Offal T-Shirts
offal. One word says it all
by
PatentPlaceUSA
Browse more
Offal Mugs